Six Things You Must See And Do In Bulgaria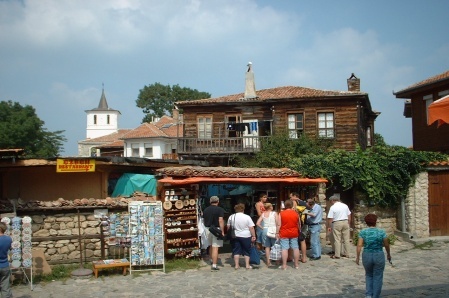 SIX THINGS YOU MUST SEE AND DO IN BULGARIA

1) The Beaches – Nessebar UNESCO World Heritage Site
Situated in the south eastern Balkan Peninsula, Bulgaria boasts an impressive 230-mile long Black Sea coast with some of the finest sandy beaches in Europe.
The two most popular tourist beaches are Golden Sands and Sunny Beach, but for an alternative seaside experience, the resort of Nessebar is a must do.
With a history dating back some 3,000 years, Nessebar has been linked with many ancient civilisations. Located on a small peninsula in the Black Sea the delightful tourist spot yearly attracts a million visitors. A small street, which connects the peninsula with to mainland, leads through a narrow gateway in the ancient fortress wall right into the heart of the quaint, tiny historic down town area with numerous well preserved buildings (mainly mediaeval churches) and narrow cobbled lanes, winding amongst wooden houses of the 18th and 19th century. Nessebar's typical houses have stone foundations and broad, overhanging wooden superstructures.

2) Bansko
Regarded as Bulgaria's premier winter sports resort, Bansko is just as appealing in the summer, offering plenty of walking, rafting and climbing activities.
This spectacular mountain resort is a World Heritage Site and rightly so. Its authentic architecture dates from the Bulgarian Revival period. Places of interest to visit in and around town include the ornate St Trinity Church. There are also statues and museums in the town in memory of Neofit Rilski, a nineteenth century monk and teacher who was a leading figure in the Bulgarian National Revival and Nikola Vaptsarov, a famous Bulgarian poet, communist and revolutionary, who lived and died in the 20th century. Both were born in Bansko.

3) Sofia
Sofia is one of the oldest cities in the world and a delight to explore. For culture buffs, the old town is simply mesmerising and is a listed World Heritage site dating back several hundred years, with cobbled streets and a traditional atmosphere brought to life by its own unique dialect. There are some 120 cultural and historical monuments to experience both within the town and nearby, including ancient fortress remains at Staroto Gradishte, the magnificent Rila Monastery and Pirin National Park - rich with lakes, waterfalls and caves all ripe for exploration.
It is in street life that the character of the city is to be found. Locals meet for coffee at open-air cafés, vast bazaars offer an array of pickles and farm produce, gypsies sell flowers on street corners, while shoppers queue to board the city's rattling trams and folk musicians serenade the metro users.

4) Rila Monastery
The Monastery of Saint Ivan of Rila, better known as the Rila Monastery is the largest and most famous Eastern Orthodox monastery in Bulgaria. It is situated in the south-western Rila Mountains, just south of the capital Sofia in the deep valley of the Rilska River. The monastery is named after the famous Bulgaria saint and hermit Ivan of Rila
Founded in the 10th century, the Rila Monastery is regarded as one of Bulgaria's most important cultural, historical and architectural monuments and it is a key tourist attraction for both Bulgaria and South-eastern Europe as a whole. The monastery is depicted on the reverse of the Bulgarian 1 lev banknote.

5) Palace of Euxingrad, near Varna
The very grand Euxinograd is a former late 19th-century Bulgarian royal summer palace and landscaped gardens on the Black Sea coast, 8km north of Varna.
Designed in the flamboyant French 18th-century chateaux style, Euxinograd is often considered to be one of the finest examples of post-Liberation architecture in Bulgaria
It is currently a governmental and presidential retreat hosting cabinet meetings in the summer and is also open to the public. One of the biggest events held in the palace gardens is Operosa, Bulgaria's celebrated annual opera festival.
The palace's wine cellar was created in 1891 for the needs of the Bulgarian royal family and takes up two underground floors. It still produces high-quality white wine (12 varieties) and brandy (7 varieties). The wine produced in the palace nowadays is thought of as one of the best in Bulgaria.

6) The local food scene
Thanks to its geographical position and diverse history, Bulgarian cuisine is a mixture of the Slavonic, Greek and Turkish cuisines. Bulgarian national specialties that are worth trying include:
Shopska salad (diced tomatoes, cucumbers, peppers and parsley topped with grated white cheese).
Tarator (a cold soup of chopped cucumber, walnuts and yogurt) perfect on a hot summer's day.
Bulgarian white cheese baked with eggs and tomatoes is another favourite.
Other traditional dishes include kebapcheta (minced meat rolled into a sausage and grilled), kavarma (very tasty meat stew), shishkebab, stuffed vine or cabbage leaves, and moussaka. Yogurt too tastes better in Bulgaria - its country of origin.
Holidays to Nessebur
Holidays to Varna
City Breaks to Sofia
Holidays to Bansko