Scuba Diving in Bulgaria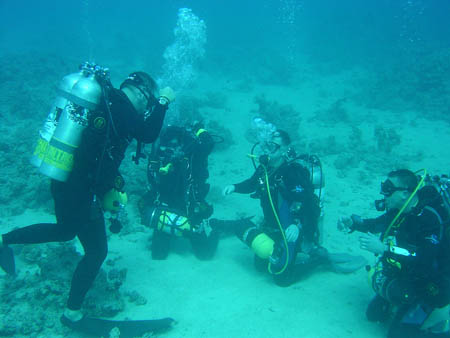 Bulgaria is famous for the mountain ski resorts, clean beaches, ancient monuments, but it is also a popular destination for scuba diving holidays with PADI certified diving centres at the resorts of Golden Sands and Sunny Beach. For experienced divers there are some sunken wrecks, some those of submarines, to discover under the sea along the coastline. In the area of Sozopol, there are some interesting and unspoilt ruins of ancient towns under the sea, such as the remains of Apollonia, a Greek town with artworks and architectural monuments immersed for centuries. The areas of some other ancient ports have old shipwrecks to discover too.

For those wishing to learn or try scuba diving, we offer various courses as an optional extra for your package holiday. When booking your summer holiday to either resort, you can add diving extras straight away to your holiday package, so you don't have to book your diving session locally.
We offer discovery diving as a 3-hour taster, and also a 4-day open water scuba diving course, offering internationally recognised qualification upon completion, entitling you to dive independently anywhere in the world.
We also offer bubblemaker courses for children under the supervision of a PADI qualified dive instructor.
For better visibility and more pleasant water temperature, the best time for diving is the end of summer and the beginning of autumn.