It's Nice Up North!
This week, we thought we'd look north, not to the wonderful north of England and Scotland, although those are beautiful parts of the world, but the northern part of Bulgaria's Black Sea coast!
There are two big cities on Bulgaria's coastline, there is Bourgas towards the south, where there are various beach resorts including Sunny Beach, Nessebar and Sozopol. Further north is Varna, which is Bulgaria's second-biggest city. Close to Varna are the beach resorts of Golden Sands, Albena and St Konstantin. It's fair to say that most British holidaymakers head for Bourgas, staying in Sunny Beach, Nessebar and the other resorts, but there's plenty on offer from the resorts around Varna, so we thought we'd share what we like about them.
Let's start with Golden Sands. The resort is located 15 miles from Varna, so about 30 minutes on the airport transfer coach from Varna airport. It is Bulgaria's second-biggest resort and offers a wide range of hotels including the excellent five-star Hotel Melia Grand Hermitage located right on the beach. It also has many other hotels to suit all budgets, including numerous Grifid Hotels that offer high-quality accommodation, food and service, plus sculptures made out of chocolate! We should also mention the three-star Hotel Bonita, the tall hotel on the beach offering unparalleled views.

Although Golden Sands is a large resort with a host of amenities including many restaurants, it has a very easy going, relaxed atmosphere, especially come the evening when many people stroll along the promenade after their dinner. There is also a water park which most people here, especially families, like to visit at least once during their holiday. Golden Sands is a great resort with lots to offer, it is quite hilly so if you don't relish tackling these you can catch the little trains that chug around the resort or book a hotel on what's called the first line, which means on the beach, so the hills are behind you!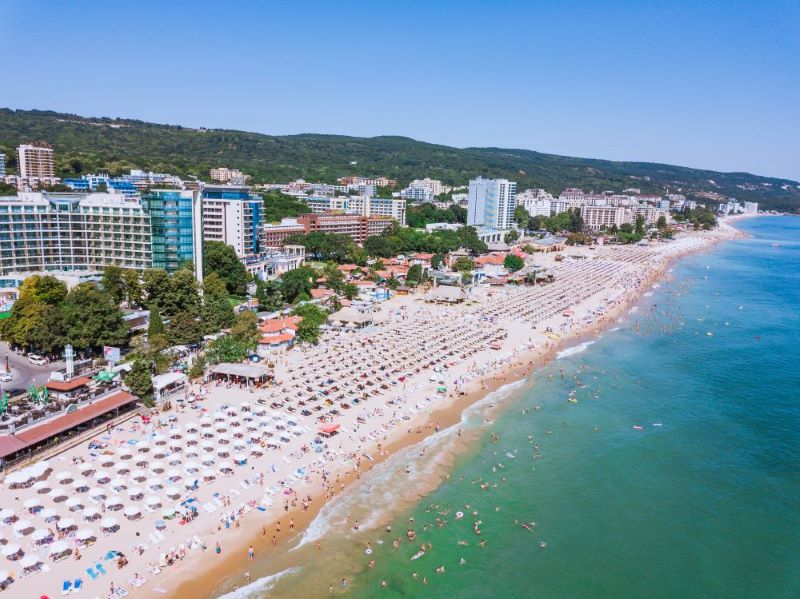 Next up is Albena. This is a truly wonderful resort, there is no other way to put it! The resort is owned and managed by one company, so they take a lot of care of it. Trees are everywhere and provide shade when moving around, which is very welcome during the hot summer months. In our opinion, one of the best features of Albena is the sandy beach. It really is wonderful, in areas the beach stretches up to 100 metres wide, so there is plenty of room for everyone. If you book Albena do make sure you spend some time here, it even has a beach library!
Travel a few miles south of Golden Sands and you find St Konstantin, a wonderful haven away from the hustle and bustle of everyday life, a holiday spent here will refresh and revive you for sure. The hotels here are all of the very high quality plus there is, of course, a wonderful beach.
We also recommend a trip to Varna. We offer an organised half-day trip that includes a guided tour of the city plus some shopping.

So there you are, we like this part of Bulgaria, the resorts have a nice relaxed atmosphere plus beautiful beaches and a spot of city life nearby too. We have very experienced reps in each resort and they can offer advice and help to help you get the most out of the time you spend in Bulgaria. No matter which resort you choose, we're sure you'll have an amazing holiday!